Events & News
Saturday 24 June 2017 - Highwood Primary School's Summer Sizzler 2pm-5pm. Family fun day - Bouncy Castles, Go Karting and Zorbing as well as lots of interesting stalls selling local produce, handmade arts and crafts, cards, plants and food. Highwood Primary School's infamous raffle (All monies raised go towards providing activities for the school children). Tickets are £2 in advance or £3 on the door! For further information please see the following poster
You can also support the event by: Donating a raffle prize (please deliver to the school office) / Buying some raffle tickets 50p per ticket/£5 per book / Booking a stall / Recommending our event to your families and friends!!! Many thanks for your support we do appreciate it.
Highwood Primary School PTA
Please contact Kelly Latham-Pearmain or Mary Sargent for further details Tel: 01245 248200 Email summersizzler2017@yahoo.com
2 April 2017 - 11am - 2pm. The Lexi Doll Easter Charity Fundraiser. Free Entry. Easter Egg Hunt, Coffee and Cakes, Stall, Childrens Crafts & Children Play Area. This charity has been set up to help bereaved children after a loss of a baby in their family. "The Lexi Doll was created to help parents explain and give a little comfort to the children excited to see and play with the new baby after eagerly waiting. To do this we want to supply hospitals with the Lexi Dolls, so that the hospital can give a child who has suffered this loss a doll for comfort. We want to help parents comfort the children suffering through this time with something to hold on to, play with and cherish". www.thelexidollcharity.co.uk For further information please see the following poster: - Easter Fundraiser
12 March 2017 - 3pm - 5.15pm. Tickets £7 on the door includes tea and cake! Everyone welcome.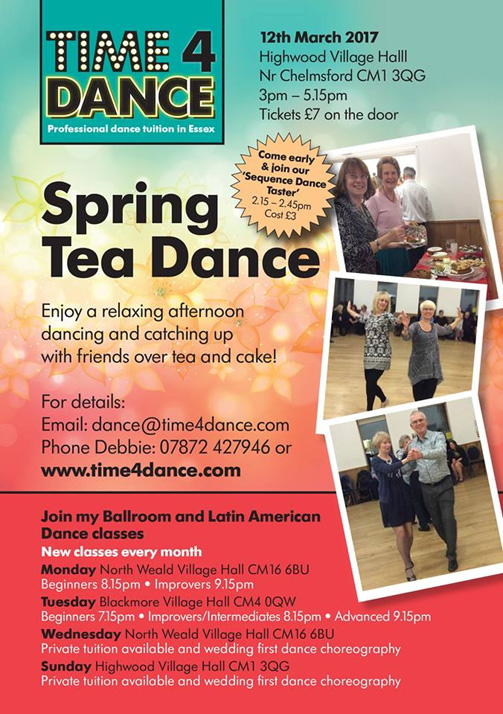 2nd January 2017 - New Year Tea Dance. Bank Holiday Monday 3-5.15pm. Tickets £7 on the door. Everyone welcome!
6th December 2016 - Little Elves Craft Workshops Book to come and join us with your little Elves and enjoy taking part in lots of Christmas activities and toys. All sessions are FREE and delivered by the Chelmsford Children's Centre. Activities for children aged 18 months + Highwood Village Hall, Highwood CM1 3QW– 6th December 1:00-2:30pm. Galleywood Infant School CM2 8RR– 22nd December 10:00-11:30. Meadgate Café – 29th November 10:00-11:30, 6th December - 1:00-2:30 and the 13th December – 10:00-11:30.
Please call 01245 475915 for more details and to book onto a course For a poster please see Little Elves
23rd October 2016 - Anniversay Tea Dance 3pm - 5.15pm. Celebrate 6 years of dancing with Time 4 Dance with plenty of cake, tea / coffee all included in the price. Tickets £7 each on the door. Everyone welcome!
Autumn Appeal - Highwood Helpers Wanted!
Are you interested in helping those who may be in need, in our parish?
Are you interested in volunteering to set up & run a new project, with others?
Are you interested in the idea of delivering food parcels, cooking and serving a meal, etc?
A company who works with Tesco contacted the Village Hall as it is a charity, asking if we would be keen to utilise free of charge, unsold food from Tesco, such as bakery goods, fresh fruit & vegetables, etc, for those who may be in need. If you are keen to find out more, please contact me, and I can forward on an e-mail to you from the company, which will give you more information & contact details for the company. We hope to hear from you! Shelley - 01245 248 519 or E-mail shelleyfowler@mail.com
7th October 2016 - Highwood Flu Clinic. To be held at the Catch Up Cafe 10.30 - Noon. No need to book an appointment, just turn up. You will only be eligible for this service is you are:-
Over 65 or have a chronic illness
Hav had a flu vaccination before
Are registered with Writtle Surgery.
5th October to 9th November 2016 - The Uniqueness of Autism - A five week training course delivered by specialised autism professionals, designed to give an in-depth knowledge of autism and how to effectively provide support.
Wednesday 5th October 2016
The Uniqueness of Autism
Wednesday 12th October 2016
Sensory Strategies
Wednesday 19th October 2016
Autism and Online Citizenship
Wednesday 2nd November 2016
Intensive Interaction
Wednesday 9th November 2016
Keeping Safe: High Risk and Offending Behaviour
Professionals £40 per session including refreshments. Parents/Carers £10 per session including refreshments
All sessions: 9am - 12.30pm. Ample off-road parking and tea, coffee and biscuits provided throughout. Certification is received on completion of each module. For more information on the content of the course and to book please visit www.autism-anglia.org.uk/trainingcourse or contact Jonathan Marriott by calling 01206 577678 or emailing jmarriott@autism-anglia.org.uk For a poster please click here
11th September 2016 - Mamma Do! A Pregnancy & Birth Event. Connecting you to a wealth of local support and services. From 1-5pm at Highwood Village Hall. Tickets £6 from tinyurl.com/mamadotickets. For the poster see Mamma Do Poster. Facebook event page
26th August 2016 - Summer Holiday Messy Play. Childrens charity, 4Children is running a FREE play session at the hall during the school summer holiday. Summer Holiday Messy Play, Friday 26th August, 10-11.30am, Everyone Welcome, Free of Charge. Please call Kirsty on 01245-355217, for more details.
16th July 2016 - HAPPY BIRTHDAY HIGHWOOD VILLAGE HALL - 5 YEARS OLD TODAY! Community Summer BBQ at the Village Hall from 6pm. BBQ food available at a small cost, but please bring your own drinks, glasses and any additional food you might require. Weather permitting there will be a few games, such as bowling to have a go at. Enjoy a relaxing time with friends and neighbours.
21st June 2016 - International Yoga Day. International Yoga Day is on 21 June 2016. Susan will teach a FREE TASTER CLASS at Highwood Village Hall, Highwood from 18.00-19.00, suitable for people who have not done yoga before. Anyone who has done Iyengar Yoga before and would like to do a class on National Yoga Day can attend Susan's 19.00-20.30 class. Equipment is available at the hall but please bring a blanket or towel.
15th June 2016 - Highwood Village Hall AGM. At the Village Hall from 7.30pm. New Committee members from Highwood required. These are voluntary positions. The Committee only meet every two months for approximately two hours, so if you would like to help with the running of the Village Hall and share ideas of how we could make it better, we would love to hear from you.
12th April 2016 - Disco Duck. New pre-school funky dance class for boys and girls starting weekly.
April / May 2016 - Highwood Patchwork and Quilting. This is a new group starting at the Village Hall on alternative Wednesday mornings. Beginners and experts welcome. To register your interest and find out more contact Margaret Shears on: 01245 260312.
20th March 2016 - Highwood Community Choir present 'Songs We Know and Love'. 2pm at the Highwood Village Hall. Tickets £6.00 each available from members of the choir or from Susan on 01277 350706. You need to purchase tickets in advance as the concerts are normally sold our very quickly!
13th March 2916 - Highwood Litter Pick - Meet at the Village Hall Car Park 10am - 12 noon. Gloves, litter pick tools and collection bags will be provided. If you are unable to collect litter, why not come along to help with the refreshments? All help much appreciated,
14th February 2016 - Valentine Tea Dance - At Highwood Village Hall from 3pm-5pm. Tickets £6.00 on the door . An afternoon of relaxing dancing, tea and cake and catching up with friends. For details email dance@time4dance.com or call Debbie on 07872 427946. Before the tea dance why not try a 'Sequence Dance Taster' the group is from 2.15pm - 2.45pm and £4.
3rd January 2016 - New Year Tea Dance - At Highwood Village Hall from 3 - 5pm. Tickets £6.00 on the door. Start the New Year with a relazing afternoon dancing and catching up with friends over tea and cake! For details email dance@time4dance.com or call Debbie on 07872 427946.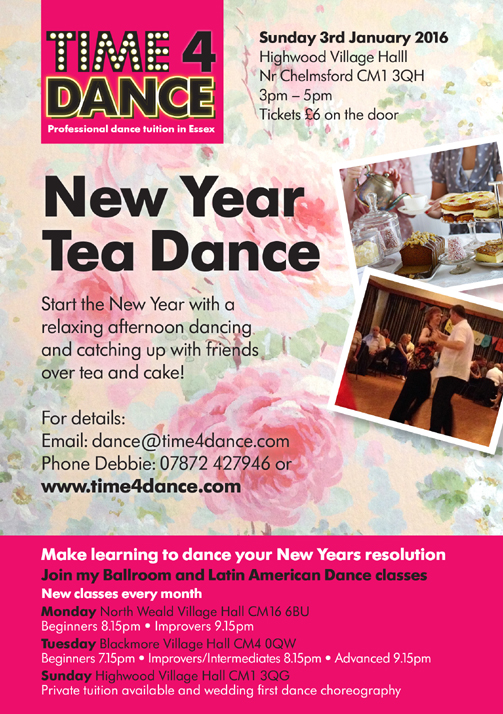 4th December 2015 10am-Noon - Christmas at the Catch Up Cafe - Come along to the monthly Cafe on Friday 4th December to enjoy what we have on offer, there's plenty for everyone. Not only do we have delicious home-made cakes, frothy coffees and a guaranteed warm welcome, we also have lots of stalls to browse around. We have our popular plant stall, jam and chutney stall, cards and gifts, as well as a large double stall selling sausages, meats and bacon. Not forgetting our chocolate stall and bathbomb stall – perfect for Christmas presents!! Enjoy our Christmas festivities with FREE hot mulled wine and home-made mince pies, while listening to the local school children singing Christmas Carols. We would love to see you at our Cafe, please bring your neighbours and friends.
16th July 2015- HAPPY BIRTHDAY HIGHWOOD VILLAGE HALL- Four years old today!
26th April 2pm 2015 - Highwood Community Choir present Gilbert & Sullivan's THE MIKADO! Adults £5 tea and biscuits available. SOLD OUT
28th February 2014 - The Highwood Quiz - Teams of 8, £6.00 per head, bring your own food and drink. Call Martin on07795430332 to book.
14th September 2014 - Essex Community Energy Fortnight - Open day at Highwood Village Hall -
Be inspired by green buildings… and learn how to save energy at home too! The Community Energy Fortnight (13th to 28th September) is a national campaign to celebrate how communities across the UK are generating, owning and saving energy. Visit Highwood Village Hall on Sunday 14 September 11.30 – 16.30 to learn about how to make buildings cheaper to run, more comfortable and better for the environment. Highwood Village Hall is one of the first village halls in the UK to be built using Passivhaus design principles, a rigorous standard for energy efficiency. Please confirm your attendance 14 September 2014. Book your FREE place at: https://www.eventbrite.co.uk/e/essex-community-energy-fortnight-open-day-at-highwood-village-hall-tickets-12633458013 We look forward to seeing you!
16th July 2014 - HAPPY BIRTHDAY HIGHWOOD VILLAGE HALL 2014 - Three years old today!
21st June 2014 - The Highwood Cafe Summer Market - organised and run by Highwood's very own wonderful Catch-Up Cafe. Cafe open at 10am until noon with summer marketplace of stalls. Hot and cold drinks, ice creams, bacon / sausage sandwiches, home made cakes and more!!!!!
8th June 2014 - Highwood Community Choir present a Summer Concert. Featuring music from Stage and Screen concluding with rousing patriotic songs. Bring your own union jacks or hats if you have them. Guest performer Kirsten Smith ~ Harp. Adults £5, Children £2. (Photographs thanks to Mr & Mrs Fuller).
12th April 2014 - A Sponsored SINGATHON from 10am - Noon in the Village Hall. Jane Reynolds has asked the Highwood Choir to help raise funds for Great Ormand Street Hospital. In exchange for a donation, you are invited to come along, listen and join in if you wish!!!
7th March 2014 - Ward Surgery. Cllr Nicolette Chambers, Member for Chelmsford Rural West will be available to residents from 10am - 11am.
1st March 2014 - Welcome to the team Shelley Fowler the new Village Hall booking clerk!!
28th February 2014 - A very BIG Thank you to Jenny Foster who has been our super Village Hall booking clerk for the last two years. We will of course miss you, but appreciate all that you have done for our hall and the hirers. XXX
22nd February until 15 March 2014 - Meet Highwood's Victorian Artists. Highwood's very own historian David Taylor first discovered the three generations of the Strutt artists when searching for Highwood's first Post Office. David has made a super mini exhibition of their work with information in the Village Hall foyer. Please do come along during the Village Hall opening times to find out more!!
22nd February 2014 - Martin Goddard's Quiz Night. Always great entertainment with quizmasters Chris & Wendy Hibbitt. Bring your own food and drink. Teams of 8, £5 per head. To book call Martin on 07795 430332.
4th October 2013 - Flu Clinic Diary Date. For the first time, in partnership with The Writtle Surgery Highwood residents who qualify for annual flu vaccines can get their flu jab in the Highwood Village Hall. Nearly 50 residents were vaccinated and Councillor Kay Twitchen OBE, Chairman of Essex County Council came to see the Flu Clinic in action, vist the Catch Up Cafe and have a look at our very special Village Hall !
16th July 2013 - HAPPY BIRTHDAY HIGHWOOD VILLAGE HALL. Two years old today!
6th July 2013 3-7pm - Highwood Primary School Summer Sizzler - Highwood Primary School, Loves Green, Highwood . Tickets in advance £2 oer adult, £3 on the door, children entrance is Free! For enquiries, tickets or stall bookings email kjstimbuck2@aol.com or call 01245 248200 (Highwood School). Rodeo Bull, Live Music, Bouncy Castle, Line Dancing Display, Beer Tent, Catch Up Cafe, Face Painting, Farrier Display, Ice Cream Van, Doughnuts And Much More...... Please come and support our School !!
23 June 2013 - Highwood Community Litter Pick 2013 10am-12 noon Meet in the Village Hall car park. Lots of volunteers needed to help with the litter pick (gloves, litter pick tools and collection bags will be provided). If you can't help with the litter pick, can you donate a cake or come along and help with the refreshments? All help appreciated. For further information email Suzie on catchupcafe@gmx.co.uk or Jenny on jennyforster@live.co.uk. Look forward to seeing you....Everyone is very welcome!
Well done to Jenny Forster and her team for organising the Highwood Litter Pick this year. Many thanks to everyone who volunteered and made the event a super success! Thanks also to Jackie Lane of Chelmford City Council Neighbourhood Environmental Action Team (NEAT) who lend residents the necessary equipment to enable them to get involved in projects to help improve their local environment. Below are a few pictures taken to show the amount of little collected, not forgetting the mass of tyres!
15th May 2013 - Highwood Village Hall AGM. The Annual General Meeting of the Highwood Village Hall Management Committee for the year ending 31st March 2013 will be held in the Highwood Village Hall at 8pm. The Management Committee are all volunteers and retire annually at the AGM. We would actively encourage residents and other members to come forward and take part with the management and operational support of your Village Hall.
8th May 2013 - Highwood Parish Council AGM. From 7pm at Highwood Village Hall. This is a public meeting open to all electors in the Parish.
14th April 2013 - The Highwood Community Choir Concert "Belladonna". From 2.30pm at the Highwood Village Hall. Tickets £5 adult £2 children bookable from 01277-352550. SOLD-OUT What a success the newly formed Highwood Community Choir were. Thank you to everyone involved and well done for raising approximately £500 for the Paediatric Intensive Care Unit at The John Radcliffe Hospital in Oxford. If you would like to be part of the Highwood Community Choir email johnnbobby@btinternet.com
12th April 2013 - Dance Practice Night Evenings 8.15-9.45pm at the Village Hall. Ballroom and Latin American dance music. £5 a head to include tea/coffee and biscuits. Come along to practice your dance routines, improve the standard of your dancing and meet friends. For further information call Debbie on 07872-427946 or email dance@time4dance.com
6th April 2013 - Village Hall Quiz Night Fundraiser. Teams of 8 at £5 per head, bring your own food and drink. Quiz masters Chris and Wendy Hibbit. Ring Martin Goddard to book on 07795430332. SADLY EVENT CANCELLED DUE TO LOW TICKET SALES.
15th March 2013 - Dance Practice Night Evenings 8.15-9.45pm at the Village Hall. Ballroom and Latin American dance music. £5 a head to include tea/coffee and biscuits. Come along to practice your dance routines, improve the standard of your dancing and meet friends. For further information call Debbie on 07872-427946 or email dance@time4dance.com
15th December 2012 - Community Carol Singing around the Village Hall Christmas Tree. Starts at 5pm and please remember to dress warmly and bring a torch to read the carol sheets outside! There will also be a charity collection, last year £150 was raised for the Children's Society.
7th December 2012 - Christmas Catch-Up Cafe at the Village Hall with mulled wine, mince pies and carols! 10am until noon.
28th October 2012 - BBC Essex come to Highwood Village Hall. We are the morning clue!It was reallylovely to see Liana Bridges and Mike Kelly as part of the Essex Quest. They asked about the Hall's Eco "Green Features" features and you can listen to our slot on the radio here:- BBC Essex - The Essex Quest. Thanks again BBC ESSEX for featuring Highwood Village Hall.
95.3FM or 103.5FM.
20th October 2012 - RCCE Village Halls & Community Buildings Conference 9.30am to 3pm. The Highwood Village Hall Committee are absolutely thrilled to be hosting this conference and special speakers include Petra Pipkin & Sue Mitchell. To download the Booking Form, & Conference Programme please visit the RCCE website :- RCCE Conference Info
5th October 2012 - 10am - 1.30pm Special "Macmillan Coffee Morning" Catch Up Cafe. Please bring your family & friends and meet up with neighbours to share a coffee / cake whilst raising funds to help change the lives of people affected by cancer. Highwood Primary School will be making a welcome guest appearance and singing some harvest festival songs!
18th August 2012 - Rummage Sale organised by Highwood Youth Club to raise money to help support St Paul's Church. 12-5pm at Highwood Village Hall. They would appreciated everyone's support by either coming to enjoy the day or helping out for the day! Please contact Jodie on 01245-248922 or Lisa on 01245-248117. Please note the date change!!
7th July 2012 - Grand Finale Inter Village Games -
The Grand Finale of the Inter Village Games event is on Saturday July 7th at Roxwell Memorial Hall starting at 6.30pm. There will be Hog Roast, Beer Tent, demonstrations by Radical Bikes, Southend Jive and Swing Group, an Argentine Tango group, and a party in the Hall from 8pm. The winning school and village will be announced and the evening is free, you just have to buy the beer or hog roast!! Highwood is currently in third position and Highwood Primary School came third in their competition, only one point behind the second placed school, a tremendous result for the school, given the small number of children, we are all very proud of what they have achieved. Well done to everyone who has taken part! It would be great to see lots of Highwood people at the Grand Finale and especially if you have taken part in the games in any way. STOP PRESS:- Highwood Parish also came third in the overall event, well done to everyone who took part, to those who organised the events, spectators and to everyone for their support.
6th July 2012 - Surprise Celebration at the Catch Up Cafe! The Catch Up Cafe and Highwood Primary School organised a surprise celebration for Petra Pipkin MBE and Anthony Pipkin in recognition of their dedication to the Village Hall project. "Thank you everyone who made this such a very special day for me and my family, especially Sue Mitchell and the the Catch Up Cafe, Helen Hutchings and the children from Highwood Primary School, Cllr. Nicolette Chambers, Cllr. John Aldridge and the Mayor and Mayoress of Chelmsford City Council". Petra x
1st July 2012 - The Inter-village Olympic Games. Table Tennis event was held at Highwood Village Hall. There were 5 villages participating in the event – The Chignals, Highwood, The Rodings, Roxwell and Willingale – and 19 participants. Each village was split into two 2-person teams, with the 10 teams then playing off against each other in a knock-out format to determine first to tenth places: the village with the two teams finishing best placed overall would be declared the winners. The 'Silver' and 'Bronze' places were a closely fought affair, but in the end, the Silver medal went to The Chignals by virtue of their A team finishing 3rd overall, with Willingale picking up the Bronze. And finally, it was perhaps fitting that the hosts, Highwood, 'got the gold'. Their two teams, consisting of Matthew Brown, Russell Downton, Martin Goddard and Francis Whitbread, finished first and second overall. Congratulations to Highwood and to everyone involved in the "Inter-Village Games".
16th June 2012 - Queen's Birthday Honours List awards Petra Pipkin a MBE for services to Highwood. "I feel honoured to have been considered to receive an MBE, particularly during this special celebration year of our Queen's Diamond Jubilee. Helping to plan, fund raise and construct our new community centre has been a long journey, but I am so very proud of what we have achieved and hope this facility will continue to play an important part in helping engendger a spirit of community in Highwood."
4th June 2012 - "Highwood Jubilee Street Party" organised and run by Catch Up Cafe in the grounds of the Village Hall. Bring your own picnic, patriotic sinalong, fancy dress with prizes, balloon release, childrens goody bags etc. Tickets (Adults £2, children under 16 free) from Sue on catchupcafe@gmx.co.uk or Jenny on jennyforster@live.co.uk
1st June 2012 10am till noon - Special Jubilee Themed "Catch Up Cafe". The children from Highwood Primary School will be singing and a special raffle in aid of local charity Barrow Farm Riding for the Disabled.
Sunday 27th May 2012 at 10am - Community weeding event at the Village Hall. Everyone is welcome please bring your own trowel etc to help maintain our Village Hall Community garden for us all.
Saturday 17th March 2012 - The Village Hall is holding a "Jazz Night" with the "Washboard Syncopators". Tickets on sale from Feb 1st 2012!
December 17th 2011 - 'Community Carol Singing' around the new Christmas Tree of the Village Hall led by Lyn Cooke. Surprise guest of "Santa" flying in for a brief visit to see the children, followed by refreshments in the Village Hall.
December 3rd 2011 - 'The Welcome Club' Christmas Coffee Morning and Bazaar. A fun morning is planned by the Welcome Club from 10am-12 mid-day with refreshments, mince pies and some Christmas stalls. Everyone is welcome, please come along and support the Welcome Club!
November 23rd 2011 - Community Planting Day. Thanks to everyone who worked so hard to make this such a special day for Highwood. Special thanks to the Mayor Cllr. Bob Shepherd MBE and the Mayoress Mrs Doreen Shepherd for taking the time out of their busy schedule to be with us all. We were all so thrilled to have the opportunity to show them the sustainability features of our new Village Hall and talk with them about the wonderful artwork designed by Highwood Primary School and the ideas for the community garden from the students of Writtle School of Desgin.
Huge thanks also to Chelmsford Borough Council, especially Jackie Lane and Lyn McLay-Kidd for providing additional saplings, bulbs and equipment to assist on the day. To the children and staff from Highwood Primary School for helping to plant the hedgerow, to Fords Motor Company for providing volunteers to help with all the digging, to Cllr. Nicolette Chambers and Cllr. John Aldridge for helping plant some of our special fruit trees and for all the volunteers who helped both inside and outside the Hall.
November 3rd 2011- The Village Hall Committee were delighted to receive a CERTIFICATE OF MERIT from grant provider "Essex Environment Trust" for "one of the best projects ever built in Essex with the Trust's assistance".
October 13th 2011 - The Mayor of Chelmsford Borough Council, Cllr. Bob Shepherd MBE presented the HIGHWOOD VILLAGE HALL COMMITTEE with a COMMUNITY AWARD "in recognition of its environmentally, friendly and inspirational community facility". The Committee were all very proud and had a lovely evening, our special thanks to everyone at Chelmsford Borough Council especially Cllr. Freda Mountain and Jackie Lane.
October 4th 2011 - Highwood Village Hall is invited to talk on the BBC ESSEX - Etholle George - Village Voices show with Nick Shuttleworth of the RCCE. Hear David on the following link:- Listen to BBC ESSEX Show 4/10/11
October 1st 2011 - St Paul's Church is organising a Harvest Supper at the Village Hall starting at 7pm. Entertainment and raffle, tickets £8.00 available from Anne 01245-248538 or Angela 01245-248502.
September 30th 2011 - Highwood Primary school parents are hosting a Macmillan Coffee Morning at the Village Hall from 9.30-11am. Everyone is welcome!!
August 29th 2011 - 'STRICTLY' TEA DANCING AT HIGHWOOD VILLAGE HALL.
To celebrate the recent opening of Highwood Village Hall and Debbie's new weekly Ballroom and Latin American dance classes she will be running our first Highwood 'Tea Dance' on Bank Holiday Monday, 29th August between 2 – 4 pm. All levels are welcome, so come along to practice your dance steps or simply to enjoy listening to the rhythms of the Ballroom and Latin sounds. A great chance to dance, relax and enjoy tea and cakes with friends. The cost is just £5 to include refreshments. Anyone wishing to find out more about the Tea Dance or the weekly classes please contact Debbie on 07872 427946 or email shallwedancepromotions@gmail.com
August 1st 2011 - Highwood Village Hall is invited to talk on the BBC ESSEX - Ken Crowther - Gardening Plus Green Issues Show. Hear Petra & Richard on the following link:- LISTEN TO BBC ESSEX SHOW 1/08/11
July 16th 2011 - Grand Opening of the Highwood Village Hall, please see the Opening Event Page.
July 11th 2011 - The Village Hall welcomes Angus Wilby, Head of Energy Services at EDF Energy. The EDF Energy Green Fund contributed £30,000 towards the cost of the renewable energy technologies and together with grants received from the Government's Low Carbon Buildings Programme and the Community Sustainable Energy Programme, has enabled the Village Hall to install and fully utilise 76 solar photovoltaic panels and 4 solar thermal panels on its roof to generate electricity and heat water, and an air source heat pump which extracts heat from the outside air and distributes it via an under-floor heating system. EDF Energy, our electricity supplier, will pay the Village Hall for every unit of electricity that is generated and for every unit that is un-used and exported back to the National Grid.
July 11th 2011 - Highwood Primary School presented the new Village Hall with an artwork to be unveiled at the Grand Opening Event.
How Everyone at Highwood Primary School became Inspiring Artists! By Kate Millner art teacher Highwood Primary School.
"Being asked by the Village Hall Committee to help create Artwork that would "Inspire and remind people of what our needs are as a Community", was, in a word, daunting. This was especially due to the fact that the wall earmarked to display the work was so enormous. However, on that sunny day in March 2011 when the children and staff visited Highwood Village Hall for the first time, an idea immediately appeared in my head. How about create eight large canvases, collectively spelling the parish name, yet made by everyone in the School Community?
Most headteachers would scoff at the immensity of such an idea, but Helen Hutchings encouraged this little seed of an idea to grow and develop and, after workshops and discussions with children, staff, parents and governors, our Artwork slowly began to take shape. Each letter was given a theme, one that was quite open-ended and that encouraged individuals to think about what the theme meant to them. This unique interpretation was important as Petra Pipkin had requested that the Artwork represented the whole Community. "H" represents Hopes for Our Lives, "I"- Inclusive, "G" Generosity, "H" Home, "W" Wishes, "O" Opportunity, "O" Opening Doors and the final letter, "D", Dreams. The canvas, "Opportunity" was overseen by a parent who encouraged parents present and past to spare a moment in their busy schedule to come into school to interpret this word in a picture. "Opening Doors", too, was allocated to adults- to all staff and governors in order to achieve yet another perspective. After designing their picture in a small sketch, it was straight to the canvas to recreate it in full oil pastel colour. Each canvas contains a multicoloured mixture of smaller pictures that come together to form the shape of each letter.
It is my hope that the canvases remind us of many things. In particular, that we all (children and adults alike) have individual needs and hopes for our lives. That said, however, they remind us that we cannot function without being part of a Community. It is something, unfortunately, we take for granted in our busy lives and we often overlook the fact. These canvases remind us that our Community can, indeed, be the source of our inspiration".
The Village Hall Committee would like to sincerely thank Head Teacher Helen Hutchings and all the children, staff, parents and governors involved with this art project for the new Village Hall. All of Highwood is very lucky indeed to have such an inspirational school with such magnificent teaching staff in our parish.
Special thanks to art teacher Kate Millner. Kate's ability to conceptualise the spirit of "Community" has helped produce a magnificent and original piece of artwork, admired by the local and wider community. Her positive enthusiasm and ability to engage with all age groups involved in the creation of this artwork, was a significant ingredient to maximise the community participation we were trying to achieve. For further information see www.fallenmoon.co.uk
July 9th 2011 -All 'hands on deck' as we get ready for the Grand Opening. The Village Hall Committee help with the planting of the lavender and dwarf box path edging and climbers for the 'green wall trellis' at the side of the building. Martin Goddard and Carl Oddy fit the new magnificent gates to the Village Hall car park. These beautiful gates were hand-made by Martin.
June 7th 2011 -It has come to the attention of the Village Hall Committee that concern has been raised with regard to the opening hours of the new Village Hall. The opening hours of the new Highwood Village Hall are governed by that granted within the Planning Permission. These hours are:- 0800 to 2230 from Sunday to Thursday, 0800 to 2330 on Fridays and Saturdays. The Highwood Village Hall Committee can confirm that there is no intention to promote the usage of the hall outside of permitted hours granted by the Planning Permission as previously detailed. We realise the sentence highlighted below has caused concern and confirm this has been removed from our licence application. "All above licensable activity may be extended on 21 occasions a year to 0200 hrs. Late night refreshments Mon-Sun 2230hrs-0300hrs". We thank those who have brought this matter to our attention and trust this explanation will satisfy any concerns.
May 3rd 2011 -The Annual General Meeting of the Highwood Village Hall Management Committee for the year ending 31st March 2011 will be held in the Highwood Primary School hall at 8pm on Tuesday 3rd May 2011. Nominations are invited for the posts of Chairman, Secretary and Treasurer plus committee members for the year commencing 1st April 2011. Please submit nominations in writing to the present Chairman or Secretary prior to the meeting, or directly at the meeting.
March 2011 - The Village Hall is delighted to welcome children and staff of Highwood Primary School to the site (our first official visitors) to show them the building progress and explain the environmental ethos that has gone into the construction of this Village Hall. The children will be contributing some artwork to be displayed in the main hall.
June 2010 Summer Fete - Unfortunately the Summer Fete 26th June 2010 had to be cancelled due to the Football World Cup and pending construction on site of the new Village Hall.